This past week back at home in Indiana has been a little intense, but I still managed to crank out the first chapter of my new fic Southern Hospitality last night! I think you guys are going to love it! Click here to read if you haven't already. And a big thank you to Bethany for the feedback & help with the geography of Tennessee! She, along with a handful of us, are all participating in the Don't Judge a Book by it's Cover Challenge so be sure to read all of the entries & let us know what you think!
Next, I went ahead and released the info for mine & Renee C's brand new non-writing challenge the Hanmix Exchange!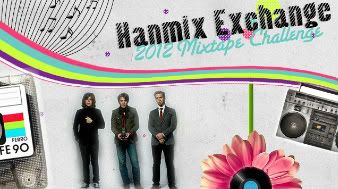 Here's the calendar for this upcoming event!
Submit your Story Sign-ups:
February 19th, 2012 – March 3rd, 2012
Story Assignment Week:
March 4th – March 9th
Fanmix Creation Period:
March 10th – March 23rd
Fanmix Posting Day:
March 24th, 2012
Fanmix Voting:
March 25th – March 30th
Mixtape Awards Posted:
March 31st, 2012